Okay, so I've done quite a bit since last we met!

First off, I have some great new yarns in my stash. I have enough Lamb's Pride wool in Sun Yellow for a clapotis, as well as a skein of Debbie Bliss Cashmerino aran (gifts from my swap partner!). I have some really pretty palette yarn from Knit Picks, which may or may not become some socks. I also have all the yarn for my afghan, and some Mountain Colors Bearfoot in Deep Blue.



This will be a pair of socks.

Speaking of socks... Remember the StR Pebble Beach yarn I bought?



They are an amazing pair of socks, and I couldn't be happier with them. The pattern is Grapevine from "More Sensational Knitted Socks" by Charlene Schurch. I used US #2 needles. I LOVED knitting with Socks That Rock yarn, and can't wait to buy more!

Next are the socks I made for a swap a while back, but couldn't post so my partner wouldn't see!



These were made using Traveling Vine from the same book as the previous socks. I used US #2 needles and Cascade Sassy Stripes sock yarn. My partner loved them! I love them too.

The other thing I made for my swap partner was a little knitted elephant. I had to make one for myself, because it was SO cute!



I kept the one on the left, and his name is Francis. Both were knitted on US #3 needles.

I've been working diligently on my afghan, and it's coming along nicely. Right now it has three balls of yarn in it, with twelve or so left to go!



This is the beautiful pile of Cascade 220 superwash yarn that is waiting to join the afghan.



And this is the afghan so far! It's getting really heavy!

Next is the pair of socks I'm making for Becky. I've finished one, and just finished the gusset of the other.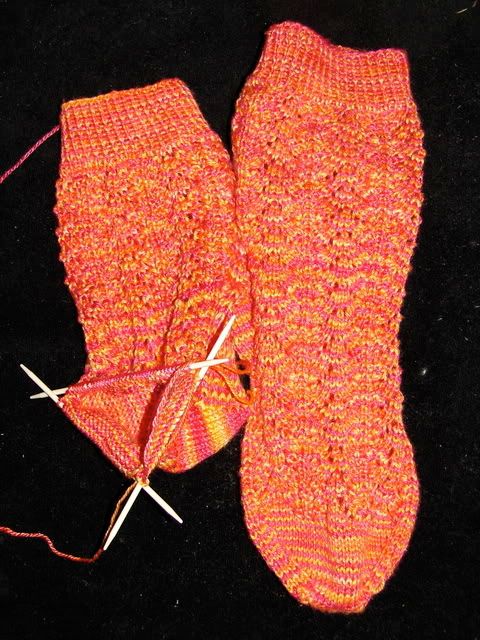 The pattern is really nice in person!

Other than those things, I have almost finished the Neopolitan scarf, and I promised Becky I'd knit a little Yellephant (yellow elephant, get it?) to go with Francis. Sooner or later I'll be doing a post of non-knitted crafts I've done, but Friday I'm going home for the summer and don't know when I'll be online next.

~Kero